Various Martin Scorsese Presents the Blues: a Musical Journey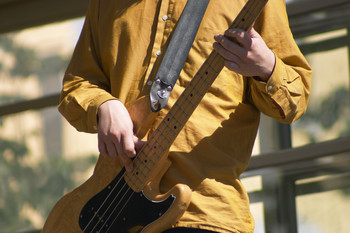 Under the guiding hand of acclaimed director Martin Scorsese, The Blues is an eye-opening and long over due seven DVD project (originally aired on PBS Television) of emotionally resonant, impressionistic films seen through the lenses of eight world-famous directors who share his passion for the music. The feature length productions, by Scorsese, Charles Burnett, Clint Eastwood, Mike Figgis, Marc Levin, Wim Wender, and the duo of Richard Pearce and Robert Kenner, engagingly ensnare the variegated heart and soul of the idiom. The films reveal the blues' global influences and organic evolutionary process--from its parochial and traditional sources and distinctly rhythmic African roots to its widespread inspirational role on the current music scene.
Each director refreshingly employs his own unique approach to the theme. Scorsese ranges from the banks of the Niger River in Mali to the rough and tumble juke joints of the Mississippi Delta with the affable Corey Harris as a guide. Wenders offers an extended essay on the dramatic tension between the sacred and profane by exploring the lives of Skip James, Blind Willie Johnson and J.B. Lenoir through the music of Alvin Youngblood Hart, Lou Reed(!), James Blood Ulmer and Lucinda Williams among others. Pearce and Kenners' Road to Memphis opus is a loving tribute to the city that birthed a new style of crossover blues in the 1950s. Featuring performances by Howling Wolf, Little Milton, Ike Turner, Little Richard and Rufus Thomas, the pair also document the gestation of the music with a series of interviews with local movers and shakers like Sam Phillips of Sun Records and longtime radio station executives.
Burnett, like Wenders, also dramatizes the interplay between Gospel (Sister Rosetta Tharpe, Reverend Gary Davis) and the blues as he boldly mixes autobiographical storytelling with documentary footage of blues legends such as Lightnin' Hopkins, Victoria Spivey, Mamie Smith and Jelly Roll Morton. The most personal of the films, Burnett ruminatively utilizes the blues as a wellspring of irony, insight, balance and humor that is universal in scope. Marc Levin, on the other hand, presents a verite-driven film with hip-hop innovator Chuck D (of Public Enemy) and Marshall Chess (heir to the Chess Records legacy) returning to Chicago to examine the heyday of the crucial Windy City blues scene. Soul shaking sounds from Otis Rush, Sam Lay, Juice, Phil Upchurch, Ahmir Thompson and Morris Jennings amplify Levin's ambitious thesis.
Mike Figgis moves across the big pond to affectionately connect the UK's post-war trad jazz and folk revival movements to another new variety of blues music, solely influenced by the authentic, homemade black blues of the U.S.A. Key British blues-rock musicians such as John Mayall, Peter Green, Eric Burdon and Eric Clapton share memories alongside marvelous clips from the Rolling Stones, Cream, Alexis Korner and others.
Eastwood's effort is the most focused of the lot as he examines his life-long addiction to piano blues with appearances by everyone from Otis Spann, Albert Ammons and Oscar Peterson to Nat King Cole, Art Tatum and the irascible Professor Longhair. Delightfully unguarded history lessons from Fats Domino, Ray Charles, Jay McShann and Pinetop Perkins add to the fun.
Each DVD also contains bonus performances. From Willie Dixon's 1966 "Nervous," and Hubert Sumlin and David Johansen's incandescent "Smokestack Lightning" to Salif Keita's "Folon," Lulu singing "Cry Me a River" with guitarist Jeff Beck and Chicago's Lonnie Brooks wailing "All My Money Back," they uniformly deepen even further the historical context of the music, musicians and geographical locales introduced in each film.
Also available is a 5-CD set that may be the most comprehensive, and is certainly the best annotated, collection of blues music I've ever seen. It begins with the haunted chanting and circular cane-fife wizardry of Othar Turner and the handclap rhythmed saga of the fabled trickster "Long John" (sung by a group of Texas prison farm inmates in 1933) and concludes more than 100 tracks later with recently recorded material from Los Lobos, Bonnie Raitt, Cassandra Wilson (a mesmerizing take on Lenoir's topical "Vietnam Blues"), Keb' Mo' and Robert Cray and Shemekiah Copeland singing their hearts out on Bobby Blue Bland's caustic "I Pity the Fool."
Long gone legends such as W.C. Handy (with his 1923 rendition of "St. Louis Blues"), Bessie Smith, Ma Rainey (with her bawdy "Black Bottom" from 1927) country blues phenoms Charley Patton, Robert Johnson and Son House, amplified pioneers Muddy Waters ("Hoochie Coochie Man"), Elmore James, John Lee Hooker and the unsung Big Mama Thornton are also featured. Blues outlaws like Bob Dylan, Janis Joplin and Elvis are also deservedly represented along with rock 'n' rollers Chuck Berry and Bo Diddley and idiosyncratic stylists such as Louis Jordan, Jimi Hendrix ("Red House"), Magic Sam, Taj Mahal, Ali Farka Toure ("Timbarma") and the original Allman Brothers Band.
This set, with detailed song introductions and incisive essays by Tom Piazza and Scorsese, informatively and entertainingly relate the odyssey of the most powerful and influential type of popular music to develop in the United States. As Piazza notes: "All American music would be an empty house without the blues." Amen.--GvonT