Enemy lines: Richard Cook on half a century of reporting from the front line of popular culture - Music - the New Musical Express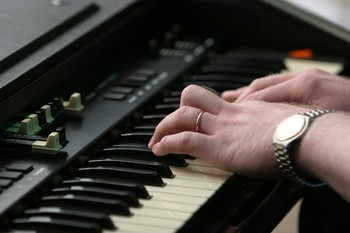 At 50 years old, the New Musical Express is the great survivor of the music press. Its birthday issue trumpets half a century of "sex, drugs and rock'n'roll", but there was no rock, no drugs and very little sex in the paper's infancy. There wasn't that much of a music business, either, in 1952. Although we still have a free press of sorts, its musical arm is these days almost entirely in thrall to an industry that has become a coolly ruthless dictatorship. The NME lives, but only on sufferance.
To celebrate the milestone, the paper chose (although it doesn't say how) the "50 Greatest Artists of All Time". Lists like this have long been a favourite in a culture that is, after all, based around weekly charts, but it's hard to take this one very seriously when an untalented goon such as Shaun Ryder (formerly of Manchester's barely listenable Happy Mondays) gets in at number 11, well ahead of Elvis Presley (14), Frank Sinatra (37) and Michael Jackson (45). What the chart really consists of is the 50 names that have been most tied up in NME-ness -- the most bankable-but-cool, salesworthy acts whose cults, whether long- or short-lived, the paper once lived out on a weekly basis. Nobody really listens to the music of, say, The Pixies (number 33) any more, but at the end of the Eighties the NME seized on them as emblematic of a certain brand of new American rock -- dark, ugly, but with eloquent hooks-and helped deify them in the eyes of their impressionable following. They became, for a moment, a major NME band.
That has been the paper's enduring power, and every year there's a new Pixies to be ennobled in this way. Naturally, it has to be a certain kind of act, which tends to mean boys, white people and guitars. This explains why there are only three women (and one of those is Deborah Harry of Blondie, an otherwise all-male group) and four black artists in the chart. Blacks have scarcely played much of a part in the NME's pages. It would be uncharitable to suggest that the megazine's erstwhile publisher, IPC, issued any decrees on the subject, but a succession of editors soon learnt that the provincial news trade was rarely happy to see black faces emblazoned on the music paper's covers.
Instead, at least since the heady days of the original punk movement, the paper has institutionalised itself as a kind of freedom-fighter's manual. Independence from the dreadful "music business", via the championing of unsigned bands and no-hope indie labels, has fed the NME fantasy of free thinking for more than 25 years. Its readership never really sees the insider aspects of music journalism, where writers and photographers are sent by major companies to interview their stars, where editorial bias is tweaked to settle frayed tempers in PR offices, and where the simple existence of the paper is to a large extent dependent on the support of the marketing departments of the big labels. Instead, readers are fed a diet of next big things and rock'n'roll "madness", meant to evoke a freewheeling spontaneity where any gang of blokes with guitars could be about to save us from the mediocrity of, er, last week's big thing.
None of which matters, as long as there's space for dissension and genuinely creative work amid all the PR flannel. In the birthday issue, Barney Hoskyns, one of the shrewdest of all rock commentators, writes of "the NME legacy as a crucial counter to the passive consumerism of Smash Hits and company". The sad thing is that the paper was fundamentally disarmed by the arrival in the Eighties of not only Smash Hits, but also the grown-up monthlies Q and Mojo. The paper's once huge circulation went into a dramatic decline, from which it has never really recovered. Never mind that both of these rivals turned out to be, in their different ways, no more than beacons of blandness: they broke up the NME's dominance of an audience that had managed to blend chart kids and furrowed-brow rock fans alike.
More importantly, they opened the door to the music business's dominance of the music press. The NME once had the game almost to itself: it was streets ahead of fellow weeklies Sounds and Melody Maker, there were no monthlies, and no rock coverage to speak of in the national press. As these other opportunities opened up, so did the power of press offices, orchestrating campaigns that allowed them to turn the mainstream music press into creatures far more supine than before. This did not bother new entrants such as Q, only ever interested in news-stand sales. For the NME -- which was built, however misleadingly, on an outlaw philosophy -- it has come much harder to swallow. At least music journal ists didn't have to live with those implications quite as heavily as rock stars did. One of the most poignant interviews in the birthday NME is with Holly Johnson, oncefrontman of Eighties stars Frankie Goes To Hollywood. "It was fantastic," he says, "until the army of record company people, accountants, lawyers, mana gers an agents clouded the dream."
Richard Cook, NME writer from 1979 to 1986, is the New Statesman popular music critic