Don't look back in anger: the simultaneous rise of Blair and Britpop marked a brief moment of unity between culture and politics. So where did it all go wrong? - The Back Half - Column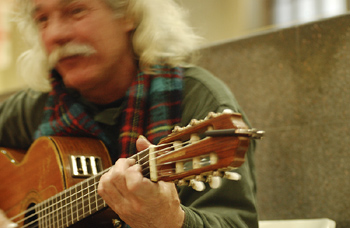 In May 1997, I was the editor of the now-defunct music monthly Select, a magazine that will forever be associated with the music known as Britpop. On account of that year's general election, I was also involved in my last spurt as a Labour Party activist. Having organised some election day canvassing in the Warrington South constituency (Lab gain, inevitably), I returned to London brimming with a dizzy kind of enthusiasm about the Blairite New Dawn, rounding on my more cynical friends and burbling on about the country's glorious exit from the Tory nightmare.
One of Select's regular features was an eight-page pull-out entitled "Images: a random collection of A4 pictures ideally suited to student walls". That month, as well as the usual musical suspects, I insisted -- to my retrospective shame -- that a double-page spread be given over to an image of Tony Blair benignly smiling, surrounded by a gilt frame. That issue, as I recall, sold roughly 65,000 copies. In response to the inclusion of the new Prime Minister's portrait, we did not receive a single letter of complaint.
Blair, after all, was a de facto Britpop celebrity Over the previous three years, he had repeatedly shown up at music awards ceremonies, occasionally kept the company of musicians and industry figureheads, and enthusiastically talked about his deep affinity with rock'n'rollers in the UK. "Rock'n'roll is not just an important part of our culture, it's an important part of our way of life," he said at the 1994 Q Awards. "It's an important employer of people; it's immensely important to the future of the country".
In his own small-time way, Blair had rock'n'roll form. During the year he spent living in London, between school and university; he had formed one half of a barely solvent concert promotion partnership. More celebratedly, there was his time with Ugly Rumours, the band he fronted while in his final year at Oxford. In the recollection of Mark Ellen, the band's bass player, "Tony would come out of the wings, in a massive pair of flares and a T-shirt that revealed four or five inches of torso, with one hand on his hip, wagging his finger, [shouting]: "Well, all right! This is Ugly Rumours!" Upon his ascent to the Labour leadership, much was made of such tales. It should, however, be borne in mind that Blair's spell with the band lasted a mere four gigs.
Nine years on, with the world aflame and the imperatives of domestic "delivery" arguably weighing more heavily on the government than ever, the idea of Blair enthusiastically emphasising rock music's political importance seems flatly surreal. Back then, politics was characterised by both a knockabout kind of joviality -- think David Mellor's Chelsea kit -- and the kind of parochialism that led John Major to nod to George Orwell and pay tribute to "warm beer, invincible green suburbs, dog lovers and Pool s fillers and... 'old maids bicycling to Holy Communion in the morning mist"'. Countering such a sepia-tinted vision with tributes to the vibrancy of modern British music was -- as Alastair Campbell et al doubtless surmised -- a pretty clevermove; akin, perhaps, to Bill Clinton announcing America's exit from three terms of fusty Republican rule by playing saxophone on The a Hall Show and adopting Fleetwood Mac's "Don't Stop" as his campaign anthem. Besides, in the long, lazy days before he moved into No 10, Blair had time to spare -- so why not make the acquaintance of slightly groovier company than could be found at Westminster?
But the notion of a rock'n'roll prime minister-designate chimed so perfectly with the zeitgeist that many people (myself included) inevitably got carried away. Blair became the Labour leader roughly six weeks after the release of Blur's album Park life and the appearance of the debut single by Oasis. Both heralded the decisive start of the Britpop era, during which the Union Jack would be rehabilitated as a pop-cultural totem, and chart-topping success would become the raison d'etre of countless guitar bands. In the 1980s, a great deal of British rock had been counter-cultural, poised against both Thatcherism and the culture of consumption; now, led by the likes of the Gallagher brothers and Blur's Damon Albarn, it proudly placed itself at the heart of the mainstream. "Who wants to be an indie noise-freak, alienating everybody?" Albarn once asked. "We want to make music our grandmothers like."
In that sense, the brief alliance between the Blairites and the Britpoppers represented a true meeting of minds. Both based much of their appeal on the idea that they were reversing the endless defeats and pessimism of the 1980s; the notion that music could be validated only by commercial success was surely analogous to Blair's repeated insistence that principles were irrelevant without electoral victory.
In the wake of Blair's first appearance at the Q Awards, he, John Prescott and Alastair Campbell invited Albarn to the Palace of Westminster, where the quartet discussed how Blur might do its bit to aid Labour's quest for the youth vote. Albarn had been endorsing Labour in Blur's latest round of interviews -- and after being contacted by a party researcher named Darren Kalynuk, he agreed to a meeting, on the strict proviso that he was not about to get involved with anything like Red Wedge, the pro-Labour musical pressure group of the 1980s.
Blair began this most informal of summits by quizzing Albarn in the manner of a swinging vicar-- "So, what's the scene like out there?" -- before making a point of raving about Parklife. Campbell made a rather more awkward contribution. "What if you suddenly turn round and say, 'Tony's a wanker?"' he inquired. Albarn assured him that the scenario was unthinkable, but by 1997, he had indeed broken rank. Even before the general election, he was qualifying his support for Labour with off-message talk about the desirability of a hung parliament. By 1998, he was leading the charge against new Labour's plans for student finance, and condemning Blair's fondness for keeping celebrity company as "disgusting".
In the meantime, however, Blair had discovered alternative rock'n'roll company. At the Brit Awards of 1996, he made a speech lionising Britpop's achievements and presented David Bowie with a statuette for lifetime achievement. His presence at the ceremony also drew loud comment from Noel Gallagher, there to collect no fewer than three awards with Oasis. "There are seven people in this room who are giving hope to young people in this country," Gallagher frothed, before naming the five members of his band, Alan McGee -- the founder of Oasis's record label, Creation -- and Blair. "If you've got anything about you, you'll shake Tony Blair's hand, man," he went on. "He's the man! Power to the people!"
By the end of the year, McGee -- whose classically rock'n'roll lifestyle had led to a breakdown in 1994, followed by a spell in rehab -- was on his way to becoming a new Labour insider. At that year's Labour Party conference, he presented Blair with an Oasis platinum disc. He was also in the habit of making informal trips to Milibank, where his conversations with the likes of Peter Mandelson revolved around a pressing quandary for those charged with coming up with youth-friendly campaigns: "Is this cool or not cool?"
In July 1997, with post-election euphoria still swirling around London, McGee, Noel Gallagher and the latter's then-wife, Meg Mathews, made their celebrated visit to Downing Street. In another act that would be unthinkable today, the Blairs were throwing a soiree for new Labour's celebrity backers. Gallagher's presence -- commemorated in photos that made the front page of every tabloid newspaper -- nailed the occasion as both the high point of Britpop's cultural impact, and the moment when rock music's alliance with new Labour became untenable. Gallagher, compliantly dressed in a suit, looked more like a deferential foot-baller than a rock musician; Blair's presence, even at the time, rather begged the question of whether he hadn't more important things to do. (To his credit, Gallagher used his brief exchange with the Prime Minister to draw attention to the plight of sacked Liverpool dockers. "We'll look into it," Blair promised.)