Discovery String Band Most Perfect Harmony: Lewis and Clark: a Musical Journey.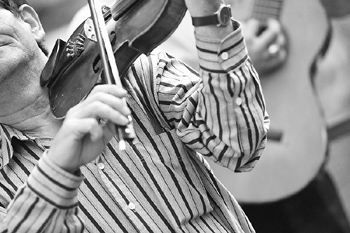 Cathy Barton and Dave Para, along with Paul and Win Grace and Bob Dyer have joined folk forces to form the Discovery String Band. These five friends from Missouri have been playing music with and near each other for years, but it took a 200 year anniversary to unite them in such a formal way.
The journals of Meriwether Lewis and William Clark speak often of singing, fiddling and dancing. Music, apparently, was an important part of the journey. The Discovery String Band did the research and the result is an interpretation of the famous journey through traditional and original tunes and songs.
The opening tune is an intriguing interpretation of "Bonaparte's Retreat" complete with jaw harp, guitar, fiddle and hammered dulcimer--all instruments likely to have been played in the days of Lewis and Clark. The journey concludes with a haunting original tune by Bob Dyer chronicling the last, tortured days of Meriwether Lewis before his mysterious death in 1809. This is set against strains of the lullaby "All the Pretty Little Horses." This is just one of the many examples of the effective blending of the old and the new.
In between you will find great playing from all five of the group's members and some wonderful songwriting from Bob Dyer (no surprise there) and Cathy Barton, both obviously inspired by this compelling American story.
Most Perfect Harmony works on several levels. It holds up as a lively way to explore our history, it is a spirited collaboration between friends and it is a remarkable collection of songs and tunes.