Billy Connolly, John McCusker and Friends: Billy Connolly's Musical Tour of New Zealand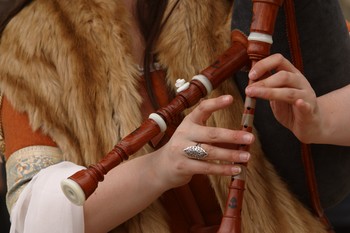 Who's Billy Connolly? It depends on who you ask. Most kids know him as Uncle Montague in the Lemony Snicker movie. TV viewers saw him in a production of Prince Charming, and many adults know him as the firm, but gentle footman to Queen Victoria in the film Mrs. Brown. Those roles amuse Glaswegians, who know Connolly for stand-up comedy routines whose language would make a sailor faint. He's also a very fine musician. Recently, he served as emcee for a BBC travel series on New Zealand. Shows need soundtracks and who better to score one than John McCusker, who is rapidly developing as one of the U.K.'s very best composer/arrangers?
This 17-cut soundtrack features strong banjo and Autoharp playing from Connolly, a hitherto unrecorded song from Kate Rusby ("Wandering Soul"), and solid backup work from Rusby's band, Phil Cunningham, Eddi Reader, John Doyle, and a host of others For my money, though, McCusker is the brightest star in the sky. He penned 10 of the tracks and provided Connolly just about every tempo and mood needed: a fast waltz, a slow waltz, a reel, a Breton dance, a strathspey, a jig, an air and a march. As this list suggests, the music is decidedly Celtic in flavor, with only Connolly's vocal on the Maori song "Pokarekare Ana," and a touch of poi styling in "The Rose of Sharon 2" paying homage to any non-Celtic Kiwi heritage. Oh yeah, there's also Connolly sporting half of a moka on the cover. If the Celto-centric themes bother you, I suggest heavy doses of "Billy's Slow Waltz." With this lovely tune, McCusker transcends region and time.